The Sebel Yarrawonga wins at Tourism Accommodation Australia (VIC) Awards 2021!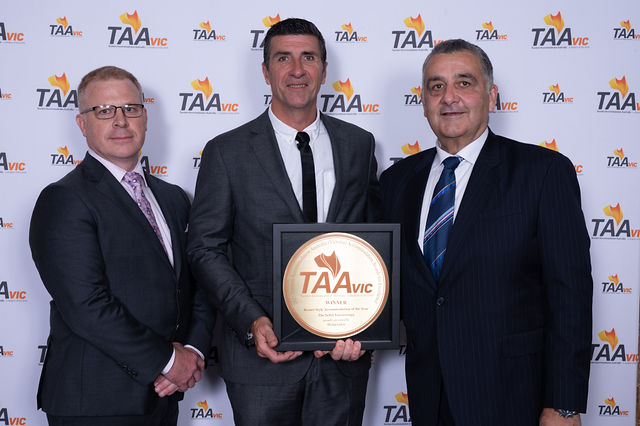 Photo: Left to Right , Greg O'Shea – Head of Department Hospitality Programs, at Holmesglen Institute, Jason Cooley – General Manager, The Sebel Yarrawonga Peter Bozzo – Managing Director – Bozzo Group celebrating the win of Resort Style Accommodation at the Tourism Accommodation Australia (VIC) 2021 Awards.
The Sebel Yarrawonga was recognised and awarded with the prestigious Resort Style Accommodation of the Year accolade at the 2021 Tourism Accommodation Australia (TAA) Victoria Awards in Melbourne last week.
In what has been a difficult year for tourism, The Sebel Yarrawonga has overcome enormous challenges since opening in November 2020 in the midst of the pandemic and through Victorian lockdown periods throughout 2021 to emerge as the state's leading resort style accommodation, bringing a new level of luxury accommodation to the Murray River region.
"The team have done an outstanding job maintaining the vision we had for The Sebel Yarrawonga from the outset, and that was to set a new standard in accommodation excellence and provide our guests with an unforgettable visit to the Murray region," said Jason Cooley, General Manager The Sebel Yarrawonga.
"Our hotel has only been operating for a short period compared to many of our industry peers and during one of the most incredibly challenging times we have all faced, so to achieve this accomplishment in such a short period of time is a testament to the commitment of everyone involved. This award further validates the high quality standards we deliver at The Sebel Yarrawonga and is a fitting accolade for our amazing hotel."
"Our hotel has been cleverly designed with a true sense of synergy between space, functionality and quality.  Sleek, modern and sophisticated, yet having that beautiful rustic and earthy signature.  Engendering feelings of cosiness and comfort, perfectly fusing practicality with prestige.  High end luxury, yet very humble.  Our hotel has the very best of all worlds by a country mile!" Jason added.
The accolade was announced at the Tourism Accommodation Awards (VIC) at Crown Palladium on 8th December 2021.